World Building – Small Details Make It
World Building consists of lots of big ideas interspersed with many smaller ones. Those ideas can be cultures, characters and places. But what about the small little bits you don't really notice?
I am a big fan of superheros (probably not a surprise to any of you). I love watching shows like The Flash on television. The little details they put in to make their world feel real are part of what I adore about the show.
One example, the favorite coffee shop is CC Jitters. Another would be the Big Belly Burger. Are either of those elements important to any plot line? Nope. Do they give the characters something important to talk about? Again, no.
But they provide a view into the world that identifies it as belonging to The Flash. For those of you who also watch the show, you knew immediately they belonged in that continuity. I could have mentioned them without any context and you would still know it.
I suspect the writers, directors and actors of the show love putting those little details in.
Planning the Details
When I started writing Scouts of the Apocalypse I had this bright idea that I should have badges for the Scouts. It shouldn't surprise you that I found badges unimportant to the actual story and never wrote them in. But the idea remained. In fact, the idea was translated onto the cover of book 2 – Scouts of the Apocalypse: Zombie War.
I had always wanted to create the badges, both for myself and for the readers of the books. My reasoning was, they would be darn cool and a really neat way to promote the books. Unfortunately, being a starving author (okay, just hungry sometimes), I never had the dollars to spend on the badges.
The idea came back to me again last Fall. I was selling books at some of the Fall Fairs and I had a lot of my core reader audience come by my table. The issue was, they never had more than a few dollars in their pockets. They never had enough to buy the books.
What to do? They were looking for something unique to spend their money on which I didn't have. They almost always left the table without anything from me to remind them of my books.
I again thought of the badges. My free cash situation hadn't changed much so nothing more happened.
Turning Point
Then I was told I would be sharing a table at the Calgary Comic and Entertainment Expo.
That was the turning point. The Expo is huge and has tens of thousands of people attending every year. Those people are often looking for inexpensive unique items. I knew I had to get badges made. They would provide the inexpensive unique items and they would remind people of my books.
So, I took the plunge to get them made. It was a bit of a risk, but I think they turned out great (see below).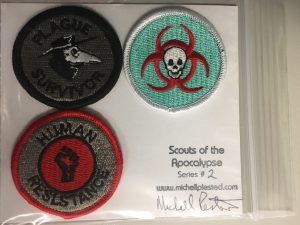 You might think a little thing like the badges don't count as world building. I would disagree. They give people a physical representation of the world the books take place in. They also give people an interesting artifact from the books (the badges come from the cover of book 2).
I will be selling these at the Expo and hope they garner the kind of interest in the books I'm looking for. If I have any left, I will be selling them on my website. If I don't, I will be ordering more. I will also be creating a third set when book 3 comes out in October.
If you are interested, let me know. You can email me at: author at michellplested dot com.
Now…what will I make next for my books?