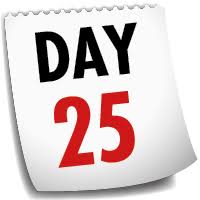 Day 25 was a day spent at a local Christmas Fair. I sold quite a few books too, which was awesome. Then we went to a movie (saw Thor again). I knew I was going to be going late so I managed to get my writing done between the Christmas Fair, errands and the movie. I'm very glad I did it then too because it was late when we got home and the only thing I wanted to do was go to bed.
Number of Words for the Day:  2,103 words
How I Hit my Word Total for the Day
One long writing session. from 5 – 6 PM
Today's Goal: 2,000 words
The Grey Cup final is tonight. I'm up in the air about whether to go watch it at a local pub or not.
Number of Words to Date: 56,175 words