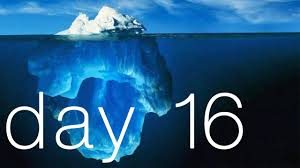 Day 16 would definitely count as a doldrums day. I'm still battling my way through the middle part of Scouts 3, trying to write content that is both interesting and moves the story forward. This is what I'm calling my pantster portion of the story.
I am reminded of something Terry Pratchett used to say. He said, "The first draft is just you telling yourself the story." As I think about it in those terms, I realize just how right he is. I am writing the story, putting the proper characters where they need to be doing the things they need to do. Revision will tighten all that up.
Challenges for the Day
Nothing additional planned for evening after 6 PM. It was actually hard to rally myself to write. After I did a few necessary items first.
Number of Words for the Day:  2021 words
I'm still maintain my pace. Should hit 50,000 word mark in a little over a week.
How I Hit my Word Total for the Day
I wrote a little bit in the morning and then hammered through the rest after about 7 PM.
Today's Goal: 2,000 words
No family at home tonight so shouldn't have any distractions. I have a bit of business to wrap up and then it's off to writing. May have to watch a movie.
Number of Words to Date: 35,381 words
Hoping to blow past 40,000 by end of day tomorrow.
Fun thing to share
A co-worker shared this movie with me. Said I would enjoy it. A horror comedy. Here is a taste: https://www.youtube.com/watch?v=9fdUa-DqpN4