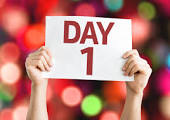 In my last post, I talked about how I made a last minute decision to do NaNoWriMo this year. I was determined to come out swinging and have a Day 1 Win. As you might imagine, I didn't do a lot of planning prior to working on my NaNo story.
That's okay though because, what I'm trying to do is finish my fifth Mik Murdoch novel. I started this book more than a year ago and haven't really gotten a good momentum going on the story.
So, I sat down to start typing yesterday and immediately had a new idea that would add more conflict to the story. Always a good place to start. An hour later, I had a brand new scene that I think will add yet another interesting twist to this story.
Trying to make each book a little better
One of the things I've always admired about the Harry Potter series is how each book gets progressively more complex as the characters and the problems they face grow. I wanted to do that with this series. I believe I've managed to achieve it.
My main character grows more with each book (both in age and personal experience) and I've tried to make the town of Cranberry Flats more alive to the reader.
I've tried to challenge myself as a writer to keep making better books.
I think I might be on my way to doing that with this one. My excitement is already building.
Day 1 writing achievement: 1668 words