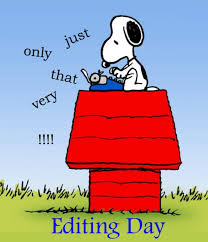 For some, editing their own book is a joyous thing. For others, sawing off your own arm might be more enjoyable.
I'm somewhere in the middle. There are times when I really have fun editing and other times when it is painful and grueling. In both cases it is necessary so I do it (sometime reluctantly) to the best of my ability.
That is where I am now. I have two books that need editing so I can send them off to the publishers. I am digging into Jack Kane first.
If you are wondering whether you missed the announcement that the first draft is complete, don't worry. That hasn't happened because the book is still one chapter shy of completion. I'm editing it anyway because I know that by going through the entire book from start to end I will be able to create a great ending.
Then I can tell everyone the book is not only finished first draft but second as well.
While sometimes painful, this is a necessary part of the process and it tells me clearly that I am moving forward.
Stay tuned for more announcements.