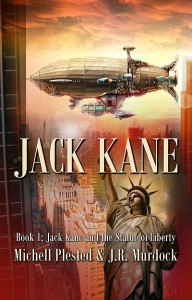 A few years ago, JR Murdock and I wrote a book titled Jack Kane and the Statue of Liberty. We were both delighted with how it turned out and were convinced it would one day see print.
Then, a couple years ago it was accepted by Champagne/Burst Books for publication. The model Champagne/Burst Books follows is, e-book first and, if it generates enough interest, then a print book. It was released in e-book formats in June of last year.
Sunday, I learned that it was now available as a print book. You can purchase it right now from the Champagne Books store here. It will be available on Amazon in the next few weeks.
If you have been waiting for it to be available in print, your wait is over. Go get your copy now (not now, but right now). 🙂
If you are a fan of Steampunk and/or my writing (and JR Murdock's writing). Go now. We really appreciate your support (BTW, it is very affordable at $11.95 Cdn).