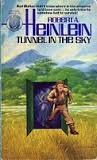 I first read the novel, Tunnel in the Sky when I was barely into my teens and it is a story that has always stuck with me. It tells the far-future tale of a school group that goes off-planet for their final exam. To pass, they need to survive several days in an unknown, alien environment filled will predators and prey (some of whom are human on both sides of the scale).
There is a problem and the several days becomes a much, much longer period of time.
The story fascinated me then and still does today for many of the same reasons. Surviving and even thriving when the odds are stacked up against you is a theme that resonates with me. Rebuilding civilization from the ground up also is a trope I love.
It doesn't hurt that the characters are rich and well developed as is the setting of the rough world they are forced to survive in. The situations and interplay between the various characters rings true and there is enough adventure to satisfy my thrill-seeking soul.
It is one of my favorite Heinlein stories. In fact, I wrote a short story of the same title for the Dimensional Abscesses anthology that came out from Evil Alter Ego Press last year (as an homage to Heinlein). I won't say my story does his justice but that it merely reflects my feelings about his original novel.
The novel reads a bit younger – in today's marketplace it would most likely be classified as YA – but that by no means should scare off readers. The themes, situations and characters should appeal to most readers.
I worried a little that my nostalgic self would find the story lacking. I guess I shouldn't have as it was as enjoyable today as it was decades ago.
Rating: 5/5, 10/10