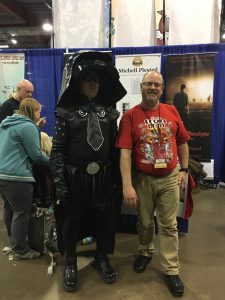 The Calgary Comic and Entertainment Expo is over for another year. I say this with a certain amount of regret and relief. Contradicting emotions? You bet! I went into the expo this year not quite sure what I had signed up for.
It was my first time on the Exhibitor-side of the table this year. I had pulled together items (my Scout/Zombie badges) specifically for the expo. I ordered more of Scouts of the Apocalypse: Zombie Plague so I wouldn't run out too soon. I was prepared, darn it! Or was I?
The Good
Simon Rose was a great table partner. We have known each other for more than a decade and worked well together. Many times during the expo you might have mistaken us for a comedy duo instead of the intrepid authors we are. We did our very best to engage every passerby and have fun doing it.
Our neighbours were all awesome too. We bonded and I'm happy to say I now have an "Expo Family" I can look forward to seeing every year.
I also had enough sales to pay for my portion of the table. People were friendly and I now have several new readers, which is awesome.
The Bad
We were in arguably the quietest part of the entire expo. When it was chaos everywhere else, we sometimes were without customers of any kind. That definitely impacted our sales (negatively). I heard from an attendee that it likely came from the way the building was configured; people weren't actually able to get to our side because lineups near the door completely blocked them from coming our way.
Not good at all.
I kind of expected to have limited time to visit other parts of the expo while I was there. I had even less time than I thought I would so I experienced very little of it. The three panels I wanted to attend did not happen for me at all. <sigh>
The Unexpected
I have attended the expo for several years now. I think it was four years ago I discovered the artwork of Laurie B!. While I have purchased some of that artwork, I never had the chance to meet the artist.
I was at my booth minding my own business when I realized the lady speaking to my partner was none other than Laurie B! herself! I had a minor/major fan moment. We had some opportunity to chat and I look forward to adding her to my expo family as well.
The Signup Sheet & Resulting Newsletter (coming soon)
This year I put together an email signup sheet. That was because I have two new books coming out this year (if everything works out) and because I have a new teacher's guide/student workbook for Mik Murdoch, Boy Superhero. I thought, I might get some people to signup so I can keep them notified of when new stuff comes out.
The response was much better than I hoped. I am currently in the process of recording everything and I am about to begin creating my first newsletter. This will be a semi-regular, you might see two or three a year thing to keep you updated on new developments in my writing career. Don't worry, if you signed up, I won't be spamming you (much). If you would like to sign-up, please do so on this site.
Final Thoughts
The expo was fun as always, but in very different ways as an exhibitor. Simon and I are already talking about doing it again next year. I hope you will come find us when we are back at the Calgary Comic and Entertainment Expo. Because I didn't get enough of it, I will also be doing Horror Con this year. If you are going to that, don't forget to say hello.