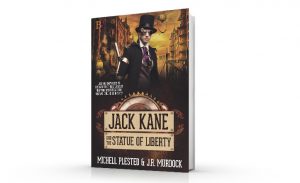 MAJOR UPDATE!!!
Jack Kane and the Statue of Liberty is now available as a print book! Whoohooo!
You can find it on the publisher's website and on all quality online book selling sites too!
___________
Jack Kane, self-declared protector of 1896 New York, has a problem. He has just witnessed the explosion of a ship in New York Harbor and must now solve the mystery of its destruction.
He is well into his investigations when a second ship is destroyed. Are they related? Is someone trying to throw New York and the entire country into chaos? The clues all seem to point to a huge plot by a diabolical mastermind. But who is behind it all and what is he trying to accomplish?
Jack has only hours to discover the secret and thwart the villains behind the destruction. But will he be in time?
This is book one in the Jack Kane saga co-written by myself and J.R. Murdock.
J.R. Murdock's webpage (co-author)
Amazon (Canada) – Trade Paperback