There is a very strong connection between music and writing. Both tell stories. Both can bring forth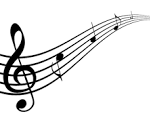 very strong emotions in the recipient.
For me, music represents yet another avenue for inspiration. For example, as soon as I heard Kiss from a Rose by Seal, a story popped into my head. The imagery from the song was so strong the story was almost immediately there. It took me a while to work out all the details for the story, but once I did, I had to write it.
That has happened other times too; a song has inspired a character or a setting or plot points. I wonder if stories do the same for song writers?
Music also provides me with mood. If I'm not feeling the right way for a particular scene or story, different songs can often adjust that for me. I have to pause that thought for a moment to clarify one thing – if the song or piece of music I'm listening to has a singer, I have to listen to it separate from my writing process. I find the words distracting from writing. Orchestral music is fine to write to (again, if it evokes the right mood).
Does music help or hinder you? Have you ever written anything inspired by a song or a piece of music?